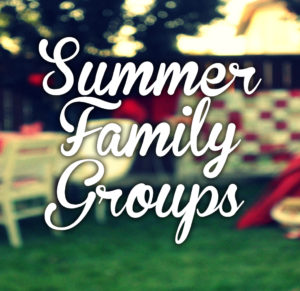 Summer Family Grace Groups Are Back!
Grace Groups will take on a new look for the summer! We are going to have groups consisting of all ages meeting at someones house or other summer-time location. It will look something like backyard family BBQ! We are looking for people that would choose 3-4 dates during the summer and host these gatherings. If you can host, please on the link below.
Grace Groups have one, simple purpose–to bring people together. We believe God created us to live in community with others and only then can we experience the full life He intends for us. We believe life change happens in the context of relationships. Meaningful relationships can be hard to find, and Grace Groups exist to make life-changing relationships relevant and accessible to you. We offer three semesters – fall, spring and summer.
GROUPS COMING SOON
Two are better than one, because they have a good return for their labor;  If either of them falls down, one can help the other up.  But pity anyone who falls and has no one to help them up.  Also, if two lie down together, they will keep warm.  But how can one keep warm alone?  Though one may be overpowered, two candefend themselves.  A cord of three strands is not quickly broken.  Ecclesiastes 4:9-12
Address
Grace - Sundays 9am & 11am
4305 19th Ave
Kearney, NE 68845