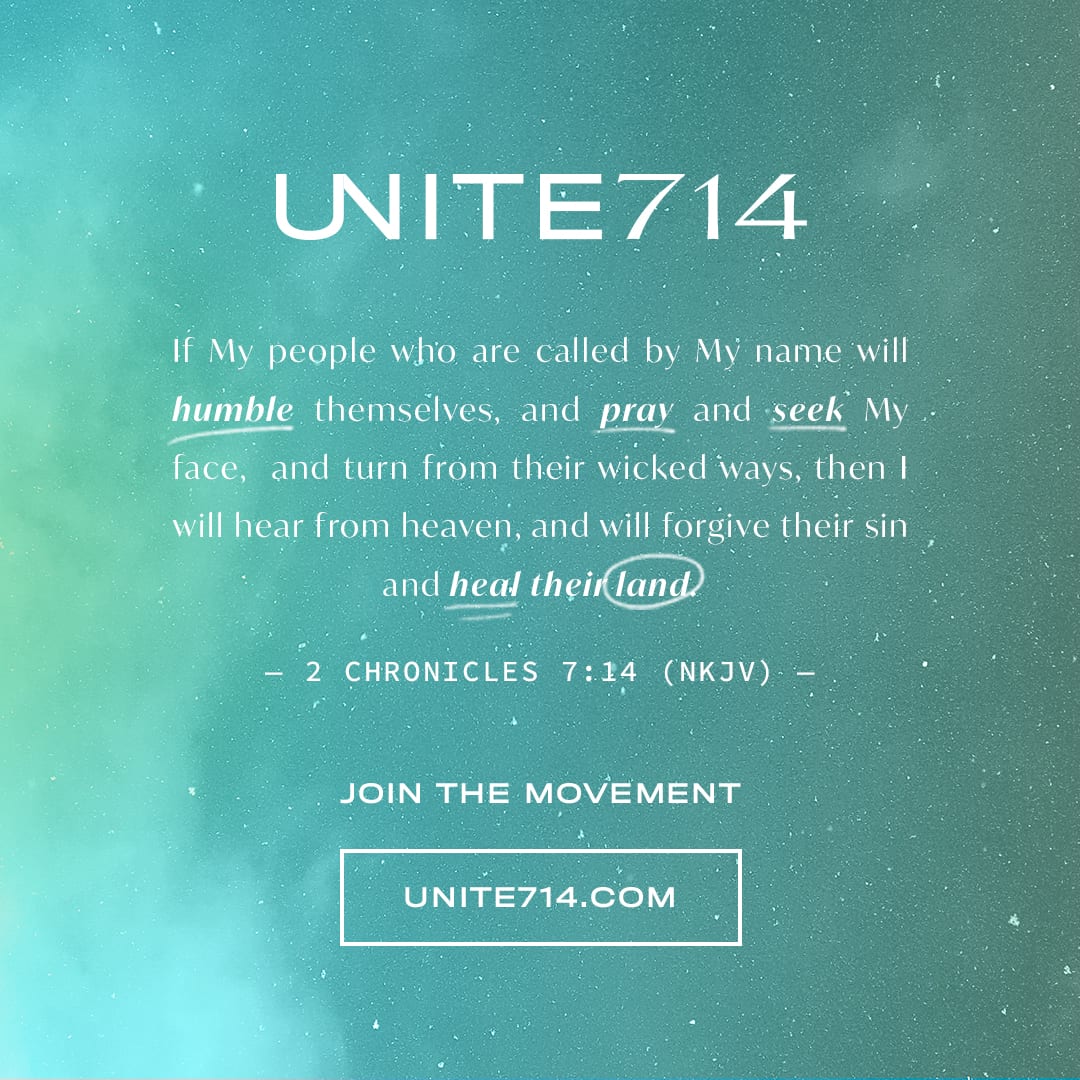 Pastors, leaders, churches, and individuals from around the globe are joining together — with one heart, one voice, and one prayer — to see the COVID-19 halted, lives healed, hardships mitigated, people come to Christ, and an outpouring of God's Spirit.
Let's unite together across denominational, network, national, and ethnic lines.
Let's gather with one heartbeat — to unite and focus our eyes on God, seek His help and healing, and believe for an awakening in every nation.
God promises in 2 Chronicles 7:14, that when we humble ourselves, unite in prayer and seek His face, He will hear us, He will speak, He will forgive, and He will heal our lands.
Join the UNITE714 movement!
Thousands of churches are joining in one united prayer during church services.
Untold thousands of believers are also praying the same prayer at 7:14 each morning and night.
Let's unite in prayer today! https://www.unite714.com/
---

Latest Updates
Grace is staying up-to-date with the spread of the COVID-19 virus and we are taking into consideration what local and national authorities advise as we determine our ongoing response.
(as of March 17, 2020):
-We're Meeting Online This Weekend!  Our Governor has asked us to restrict groups to 10 people or less.  So we will be broadcasting our service on our web site and on Facebook.  Our Service are Sunday 9:00 and 11:00 am.
-Financial Peace has been postponed.  If you signed up for the class, you will hear from your class leader.
-Big Igloo Adventures Family Bowling has been canceled.  We will look for another time to reschedule.
-Matthew Rudolph & Katherine Ruonala have also been canceled at this time.  
-Good Friday Community Service & Our Big Igloo Easter Egg Hunt have been canceled as well.  
We are continuing to monitor the situation and our staff and leaders are taking every precaution to keep our church family healthy! Please continue to check our website for updates and further information.
---
Resources for Buffalo County
Community Resources Available
The following are community resources that have been made available to us to pass on.  If you need help applying or obtaining resources, please let us know.
UNEMPLOYMENT
To file an unemployment insurance claim, make that selection during Registration for an Individual account or under Unemployment Services if you have an existing account. In response to COVID-19, from March 22 through May 2, NDOL will waive the requirement to search for work, as well as the requirement to serve an unpaid waiting week once eligibility is determined. 
STEP BY STEP FILING INSTRUCTIONS   
KEARNEY RELIEF FUND
Relief Fund Established to Assist Kearney Area Employees
KEARNEY, NE (March 23rd, 2020) The Kearney Area Chamber of Commerce, in partnership with the Kearney Area Community Foundation, has set up a Kearney Area Employee Emergency Relief Fund to help those in our community suffering loss and hardship from the COVID-19 outbreak. To show your support for the KAEER (pronounced Care) Fund, click on the link below or go to www.kearneycoc.org/covid19 and click the "Donate" button.
https://www.paypal.com/cgi-bin/webscr?cmd=_s-xclick&hosted_button_id=NEDLR4M4HTJLL&source=url
Derek Rusher, President & CEO of the Kearney Area Chamber of Commerce, said "100% of donations will be used to provide emergency cash to people who have experienced hardship."
Kearney area employees that would like to apply for a grant can select from the links below and fill out the online form. Approved applicants are eligible for up to $500 every 30 days.
SELECTION CRITERIA USED:
1. Demonstrated hardship and financial need
2. Employment in a business in the Kearney Nebraska area
3. Verification of employment and business status
English Form:https://forms.gle/SsryfT4cLUPciz5Z6
Spanish Form:https://forms.gle/3ugws6W3D56mrmeW8
"What makes Kearney great? It's the people," Rusher said. "That's why we need to take care of our frontline workers and do everything possible to make sure their daily lives don't get thrown into a complete crisis."
DONATIONS CAN BE MADE VIA PAYPAL ATwww.kearneycoc.org/covid19 OR CHECKS CAN BE MADE PAYABLE TO KAEER FUND C/O KEARNEY AREA COMMUNITY FOUNDATION. Please mail to 412 W 48th St Suite #12, Kearney, NE 68845
ALL DONATIONS ARE TAX DEDUCTIBLE AND 100% WILL GO TO EMPLOYEES IN THE KEARNEY AREA
SCHOOL LUNCH
Kearney Public Schools Grab & Go.  11:00 – 12:00 Monday – Friday.  Free sack Lunch!  Breakfast Included!  For kids 18 & younger.  Pick up Curbside.  Kids must be in car or be present to receive a meal while supplies last.  3 Locations – Bryant (1611 Ave C), Central (300 West 24th Street), Emerson (2705 Ave E)
Amherst Public School Any child age 0-18 is eligible to receive a free lunch provided by the school and the state. The old gym will be open from 11:30 am to 12:30 pm every weekday to pick up lunches as long as school is not in session. 
GROCERIES
If you need food, the local "mobile produce pantry" is currently functioning as a drive-through by-appointment-only food bank in Kearney. As of a few hours ago, they still have quite a few appointment times for this Friday, March 27th. You can call 308-865-1354, Ext. 108, to make an appointment. They will ask you a few questions about your household's demographics, but there are no specific guidelines you have to meet.
Kearney Jubilee Center – Pantry  Hours: Monday – 1p to 5p, Tuesday – 9a to 1p, Wednesday – 1p to 5p, Thursday – Closed for the day, Friday – 1p to 5p, Saturday – 10a to 2p
Also, their Thursday night meals will now be at the Jubilee Center. Take out containers will be ready for pick up starting at 5:30pm.
The Hot Meals USA Food Truck is doing an amazing job of getting meals out to people over the lunch hour.  We served 150 meals on Tuesday and served between 500 and 700 meals throughout the rest of the week.  Volunteers helped to deliver to over 80 addresses.  I'm already adding to the list of deliveries this morning.

We will continue to serve and deliver this week.  The Food Truck will be located on the MONA parking lot.  Meals will be available from 11a to 2p Mon through Sat.  We will continue to take delivery orders as we go through the week.  People can call the Jubilee at 308.234.3880.

Helping Hands is open 2-4pm every 3rd Sunday of the month. In April it will be the 2nd Sunday due to Easter. They did say because of the virus individuals can call 308-627-4859 for food assistance.  
East Lawn food pantry will run normal the week of 3/16-3/20. Decisions to change hours will be discussed after this week
Salvation Army's expanding hrs to M- Sat. Premade food bags can also be picked up in the thrift store when it is open Mon – Saturday 10-6 until they run out.  
Storehouse is offering "Home 4 Now" bags jam-packed with kid friendly foods to get families through these next few weeks. No income/ intake and you are welcome to return as often as needed during this crazy time. Pick up is at 4010 7th Avenue (Kearney eFree Church) at the North Doors (Door #12). Please let Storehouse (308.455.3302) know if you have any questions about this. We're all in this together!
Faith United Methodist Church pantry will be open upon request. Call 308-237-2550 to set up an appointment to receive emergency food bag.  
Prince of Peace– food M- Th 2-4:30 236-9171
MEALS
Hot meals USA Food Truck is doing an amazing job of getting meals out to people over the lunch hour.  We served 150 meals on Tuesday and served between 500 and 700 meals throughout the rest of the week.  Volunteers helped to deliver to over 80 addresses.  I'm already adding to the list of deliveries this morning.

We will continue to serve and deliver this week.  The Food Truck will be located on the MONA parking lot.  Meals will be available from 11a to 2p Mon through Sat.  We will continue to take delivery orders as we go through the week.  People can call the Jubilee at 308.234.3880.

Peterson Senior Center closed to the public. Will start curbside pickup 11:30am -12:30pm starting March 23, 2020. Individuals are asked to be over age 60 and to call 308-233-3290

the day before

to notify that they would like a meal to pick up
Mom and Dad's Bar-B-Que is offering free kids meals

with a purchase of an adult

meal

. Eat in or carry out. Can call ahead and order and employees will even bring out the food to your car if you do not want to go inside of the restaurant.
TRANSPORTATION
Transportation:  Ryde- 6-6 call 24 hrs in advance. First United Methodist church can only assist with gas vouchers at this time. Call 308-237-3158 for questions.
HOUSING / UTILITIES
City of Kearney, Northwestern, and Black Hills have all stated that they will be suspending disconnections

. Individuals MUST call

to notify their companies that they are unable to pay so arrangements can be made on accounts.    · City of Kearney 308-233-3221 OR 308-233-3240.  · Northwestern 1(800)245-6977.  · Black Hills (888) 890-5554.  ·
City of Kearney also stated that if you sign up for bank draft and electronic statements you get a onetime $10 credit and a monthly credit of $1.
NPPD is still running normal at this time.
First Presbyterian Church is able to help with $50 towards rent or utilities. Must have a grid and have gone to Community Action, Salvation Army, and Jubilee Center first. Call the church for an appointment 308-234-4543.   
EXPENSIFY SNAP REIMBURSEMENT
Starting today, March 17, 2020, Expensify will reimburse families with SNAP benefits $50 when they make a purchase with their SNAP card. This is limited to one reimbursement per family, but we hope the extra funds help you take care of you and yours. Stay healthy, stay safe, and treat those in your community with kindness and respect.
How it works
Purchase food as normal with your SNAP card
Download Expensify on iOS or Android, for free
Join the org/hunger policy
SmartScan the receipt, which will tell us how much you paid and show that it was paid for with an Electronic Benefits Transfer (EBT) card
Submit it to volunteer@expensify.org
Set up your bank account to receive the funds
So long as we have funds available, we will reimburse up to $50 per family (one time), the very next day.
Let me know if you have any questions regarding Expensify. I'd be glad to help.
Educational items:
Students and parent of students: Spectrum is offering free Wi-Fi for 60 days for those affected by the school closures. Call 1-800-488-8395
Scholastic is offering free online courses due to the school closures. The Scholastic Learn At Home program offers three hours of learning per day up to four weeks of instructions. Users must choose a grade level and then create a free account using the following information provided on the webpage and that's it! Your kiddos will have access to some additional learning materials while they're at home.   
A Christ-Centered Response
For believers, this is a good time to remember that our hope is not in what we save or even in our physical health. Neither the markets nor our current health status provide the source of our identity. Psalm 20:7 reminds us, "Some trust in chariots and some in horses, but we trust in the name of the Lord our God".
"For God has not given us a spirit of fear, but of power and love and of a sound mind" 2 Timothy 1:7. This is critical to hold to when fear threatens to grab hold of our hearts. God is not surprised by a viral outbreak. He is not disinterested in our fears. He is our rock, our light, and our salvation (Ps. 27:1). Let's use the gift of sound-thinking to take precautions, AND pray faith (not fear) filled prayers.
Jesus told us to let our light shine in a dark world (Matt. 5:14-16), so place your trust firmly in the Lord and shine!
---
Commonsense Guidelines
As with any normal flu season, follow these "commonsense" guidelines for keeping yourself and others healthy:
Wash your hands regularly
Cough or sneeze in the bend of your elbow
Don't touch your face
Eat healthy and drink lots of fluids
Stay at home if you are sick or coughing
For more information, please access the following link:
DHHS COVID-19 Website: http://dhhs.ne.gov/Pages/Coronavirus.aspx
---
Parent Guidelines
Use the following guides to help your children process their feelings and concerns:
*Postponed* Financial Peace University
Thursday Nights at 6:30 pm starting March 19th
Nelson Micek & Chad Gillespie will be leading a Financial Peace University class on Thursday nights at 6:30 pm starting March 19th.  
Click on the link below to register.
2020 Missions Opportunities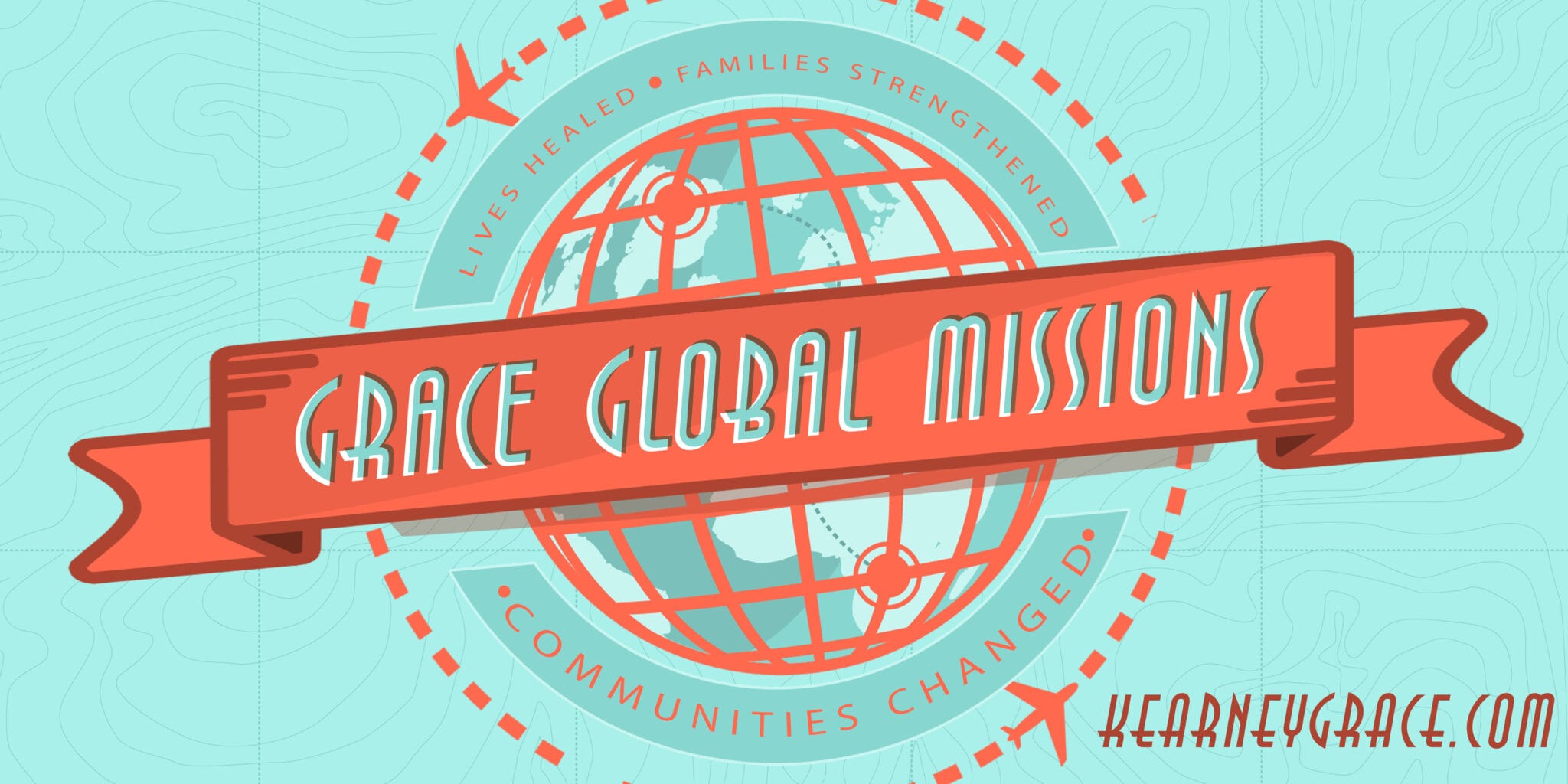 We have a few missions opportunities coming up this summer.  
Super Kids Camps (Kearney and others)

Dumas (May 31-June 6)
Kearney (June 8-12)

Team Leaders, Station Leaders, Departments, Decorating Team, Administration, Grounds, Team Meals, and more!

Navajo Gallup, NM (June 26-July 4)
Ireland (July 10-19)
Belize (July 25-August 1)

Honduras (September 3-8)
Costa Rica (October 2-9)
If you are interested in ANY missions this summer, click the link below.  
Address
Grace - Sundays 9am & 11am
4305 19th Ave
Kearney, NE 68845